Oni's lil sister!!
I'll give yall the birth story, being that the pics are taking a while to upload because of the video.
Well, as yall know, I woke up Thursday having cramps. I called Baron and he got here at like noon.
We all ate, hung out, and headed to the hospital for around 2.
I got there at 2.30, and didn't get seen until 3. At 3pm I was 5cm, -2 station.
They took my blood and offered me the IV portal. I let them take my blood, but refused the portal.
They hooked me up to the monitors and she was looking GREAT!
SO, I let them monitor her for 30 mins, and told them I wanted to walk. SO I walked around the hospital for about 45 mins. I had my 2 best friends with me.
I had my mom, baron's mom, Oni, Katie, Nicole, & Katie's mom in the room for my entire labor. But Only Nicole, Katie, and Baron stayed for the birth.
Anyways, at about 5pm, my contractions were coming every minute, minute & a half.
She ckecked me and I was 8cm.
So, I walked around for another 30 mins, and decided I needed to be in the bed, so I could focus.
The pains got SOOO intense. I told the girl I wanted to get in the shower. She checked me before she let me get up, and I was at 9cm! (within 30-35mins)
I got in the shower, and was in there for about 3 mins when a different nurse came in and said I had to get out of the shower because she didn't want me delivering in there. I was LIVID!!
So I dried off and got back in the bed.
At this time, I wasn't able to stop myself from pushing. My water hadn't broken yet.
The Dr came in and checked me. He said I barely had a rim left and he wanted to break my water. I refused to let him use the amnio hook, so he dug around in there and it broke.
Of course, there was LOADS of thick merconium.
I started pushing at 6.10pm.
She came out at 6.18pm!
When he saw her he said "well, I think we definately had the dates WRONG. We should have stuck to the Feb 12 due date!"
He gave her to the PED team and they suctioned her lungs.
I didn't tear at all. And they gave her to me IMMEDIETLY after suctioning her to breastfeed. She did GREAT!! She's a PRO!!!
It was a very intense, fast, labor! Oni came in and met her MINUTES after, and was SO excited!!! She loves her sooo much!!
NYA JHANELLE SHANO
6lbs 12oz 20in.
Jan.31, 2008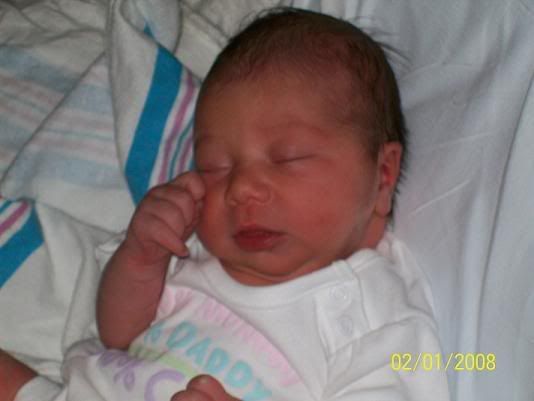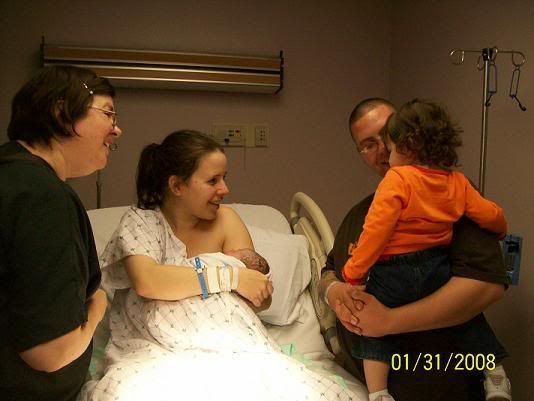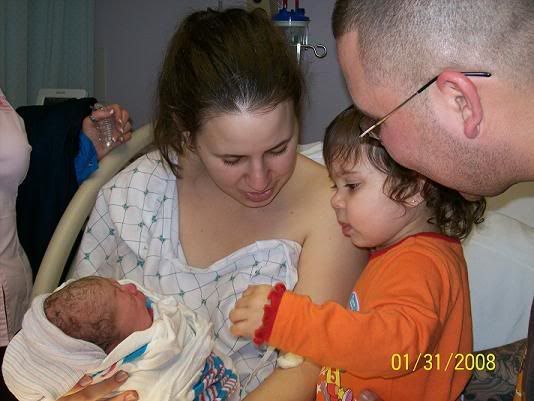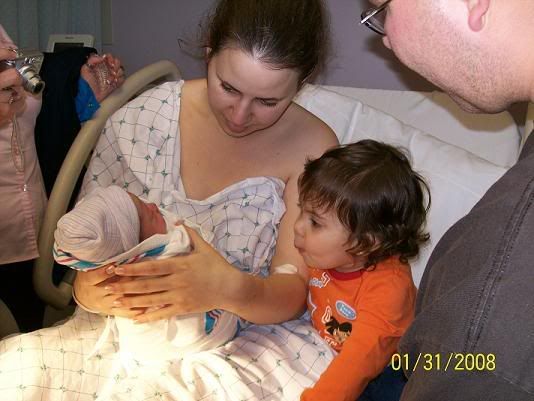 Sarah