It took me a while, but I finally found a program that can be used to
further analyze the data from the CT/MRI disk. The radiologist should give you a CD - a disk, after the scan is done, just ask them, and tell them that you can wait. In my case, all of the times, it did not cost anything.
The CD disk that you will get WILL BE VERY IMPORTANT, SO MAKE A COPY, AND GIVE ONE TO YOUR DOCTOR.
The information in the disk be used to reconstruct the image, if that was not done, and also do some other things.
That way you don't have to deal with radiologists who will ignore the requests for reconstruction or simple request such as, "Please print slice number 00045".
One radiologist told me that cannot be done. Yes it can be done. And you can save the image, especially IF THE JOINT IS DISLOCATED, HAS A CYST, or something else of concern. Then you can discuss it with your doctor, or if you really like university libraries, go there and look up radiology books and compare your images with those in the books
Having an image printed, something in your hand helps ALOT, some doctors might think you are hypochondriac, but they must get over that, as it is your life, and he has the responsibility to look at whatever data your present to him.
He can analyze and explain to you what is what, if he cannot, find someone else. I've seen doctors who pretend to know how to interpret MRI/CT scans but they really just know the basics, if they see a huge spot in the brain, then they will call someone and do something about it... Otherwise, like Eagle's syndrome - I bet that most of the doctors would not know how the skull looks like with Eagle's and without Eagle's syndrome.
Example: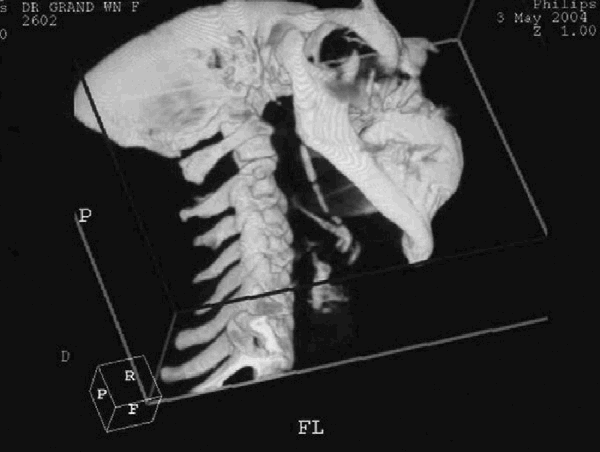 courtesy of TMJ Disorders
A Report of Post-Traumatic Eagle's Syndrome
A. Klecha, H. Hafian, B. Devauchelle, B. Lefevre
Int J Oral Maxillofac Surg
2009
This is not a good quality image, but it's simple - you can see your upper spine, (neck bones) and then the jaw, below the jaw, you see a small white line, a bone, that is a calcified ligament.
Here is mine:
The highlighted areas are of the joint itself, and then the calcified ligament known as styloid process.
Wikipedia has the image:
I guess it is not as that big, yet, most people do not have calcification of this ligament. Inflammation, I would argue, was the factor in causing the calcification process.
I just uploaded it to the free website called [image removed] and copied the image's location by right clicking. Then you can go here and add the image by using "[img]...location of the image... "[/img]" remove the quote and do not leave any spaces in between..
So feel free to use this program, be patient, LEARN, and if you have better programs please share, because unless the doctor calls the radiologist office - you or stuck thinking - do I have the correct information?
Most hospitals will not care to analyze the CT/MRI one more time.
BUT YOU, BY LAW, HAVE A RIGHT TO YOUR DATA. And having data, you can see private radiologist, be sure he is specialized in TMJ, and then have 2nd opinion.
In US, they are obligated by HIPAA, which is enforced by Office of Health and Humman Services, to provide you with your medical record, which includes data from CT, MRIs, etc. Usually there is an office of medical records, you go there, fill out the forms, and come back in few days and they have your CD of MRI/CT, plus the radiologist report or any other records (you might have to pay a fee for that).
University of Illinois medical records section charged me 40 plus dollars, but often it's free, especially if it is just one page radiologist report.
In my case, hey had to print 50 + pages of records, same pages were just useless, some included radiologist report(s), and even amendments, because they misinterpreted the MRI, and the oral surgeon had to call the radiologist, then finally, the real radiologist, not the student radiologist, reviewed the results and added some extra information. THIS IS VERY VERY IMPORTANT. so get the radiologist report, copy it here if you feel like it, so people can compare and help each other.
Thanks to this guy from UK, this program is free.
I would first suggest to copy all CD to computer by clicking copy in the CD, then paste to new folder.
This way, the program works quicker.
Basically, you run the program, then
You go to File,
click on Open,
then on the bottom where it says file type click and choice "All files"
open the folder that has the CT/MRI data,
click on one of the files in the folder, (you might have to do some searching, and pick the folder that has most files)
the file will probably have the name like 0001, 0002, so look through all the folders for these type of files,
and click on it,
then it will ask you if you like to scan for similar files to include in the reconstruction,
click yes,
and then again click OK.
The image will appear on the screen, click on it and while holding move the image, it will start to rotate.
To create the 3D image:
click on Edit,
then choice generate iso-surface
and the window with image will pop up,
be sure to click on the spot that is GRAY, not black, not white, gray ONLY THEN click process.
The program might crash, so I would recommend to close all other programs when doing this. If the program stops working, just close it and repeat. It is not perfect, but if anyone has any better programs I would ask them to share.
You will see 3D image of your skull, leg or whatever CT scan was scanning. If you click on the image and drag it, it will move around so you can look the image from all directions. Be patient, and be sure to always choice all files when picking the folder and trying to find your data slices (pics) from the CT scan.
To save or print the image - click PRnt SCrn button in your PC, it's next to F12 key, then go to windows paint program and paste, the save it as JPEG (uses less memory).
Usually, if you have a disk with MRI/CT data, it will run an automatic program after you put in in the computer. But if they did not reconstruct the image, or did a bad job on it, then you are stuck, because the pre-installed programs on the MRI/CT CDs are very simple and just allow you to view images - one by one. That's it, maybe zoom in, view 4 images at the same time... etc.
But it's better to know what you are looking at, and unless those images are put back together, it's like your have a loaf of bread, sliced pieces, and what can you do what that? Just see what's inside, but not outside, and the shape of the joint, the outside, is important. So putting these slices together by a process called reconstruction you can see the whole outsige imagine, just like a loaf of bread sliced into many pieces - if you put it together (reconstruct) you can see what shape the whole thing has, etc.
The link to where you can download this free program:
http://www2.cmp.uea.ac.uk/~rjal/3DView.htm
BTW, i am not affiliated with this program in any way, and not attmepting to promote it, it's free after all. It's been free for at least 2 years, and I hope it stays free, if not, download it now.
Good luck,
Ed